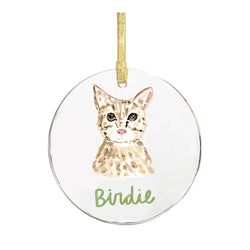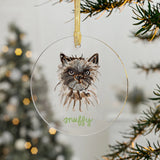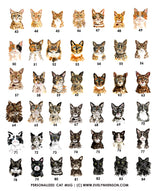 Personalized Cat Ornament
Cat moms, you need this. Honor your favorite(s) with this personalized cat ornament. To design, choose from the set of cat illustrations, add your cat's name, and create a special holiday keepsake that makes you almost as happy as your favorite cat does. 
To design your ornament, click through this catalog to find the cat number that is the best match. 
Next, choose one cat from the list and type the corresponding number of the cat you want in the "number" text box.
You can then add text customization to the "text box" if you'd like to have your cat's name printed below. If you'd like no text, please type "no text."
Details 

100% clear acrylic ornament created with screen printing technology 

This is screenprinted onto clear acrylic and not handpainted
Gold ribbon

Measures 3.5 in diameter