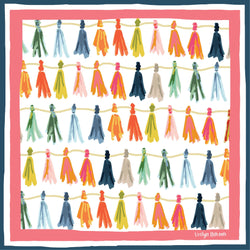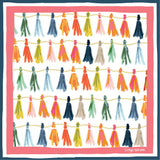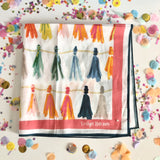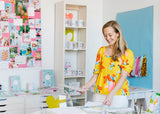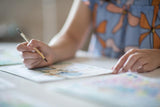 Whether you wear, frame, hang or tie this bandana scarf - each piece of original art was created to send good vibes out into the world. Each design is drawn by hand or hand-painted and digitally printed onto a luxurious cotton fabric. 
ORIGINAL ART by Evelyn Henson hand-drawn and painted in her Charlotte, NC studio. Each design features Evelyn's signature. 
"Inspired by images of tassel party garland, Tasslin' is meant to inspire you to celebrate the everyday. So, go ahead add a little tasslin' to your life - you won't regret it!" 
- Evelyn Henson 
BEAUTIFUL GIFT PACKAGING: Each bandana scarf is packaged ready to send joy, confidence, hope and love out into the world. 
Created By is a team of emerging, women artists that beautifully create original artwork - each with a unique style and beautiful story to tell. Learn more here. 

Need a little inspiration? 
Here are 101 ways to wear + use your scarf bandana.

Digitally Printed on 100% Cotton
26" x 26" square
Machine wash cold, do not bleach, line dry, iron with low heat
Back in Stock: October 2022