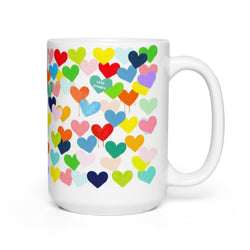 Sip, sip, hooray to brighter mornings--your daily sip of coffee or tea is about to get a whole lot more fun! This mug's whimsical and colorful art is designed to bring more joy to your everyday. 
This mug is inspired by my #confettiheartswall mural, which I hope instills the belief that you can make the world brighter through small acts of love and kindness, one confetti heart at a time. You can visit the wall near 1920 Camden Rd. in Charlotte, NC. Learn more about the mural here. 
This mug is 15 oz and is microwave and dishwasher safe.