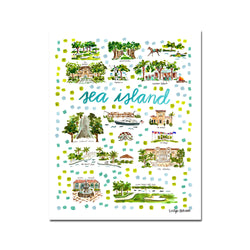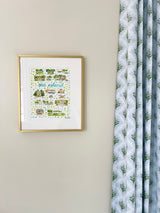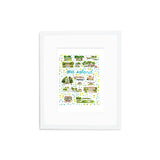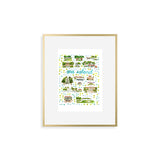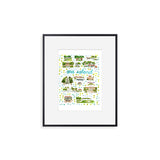 "Sea Island, GA" Fine Art Print
Elevate your wall decor with Evelyn Henson's whimsical watercolor map series, a vibrant collection boasting 250+ places and counting. Each print is a celebration of cherished locations, adorned with unique icons and landmarks that capture the essence of the place. Professionally printed in the USA, these prints mirror the original watercolor's charm, adding a burst of color and joy to your space. Choose a single print to commemorate a beloved locale and relive cherished memories, or create a gallery by displaying multiple prints to weave a visual narrative of your journeys. Transform your walls into a personalized showcase of meaningful places with these professionally crafted watercolor city map prints. 
Each art print is professionally printed on acid-free, 308 gsm rag paper with 19 mil thickness for the best possible quality. 
Framed prints are custom made with your choice of a black metal, gold metal, or white wood finish. Each frame includes:
-A white mat board
-UV shielding acrylic glass
-Hanging hardware