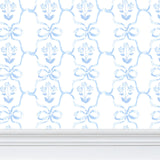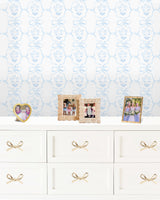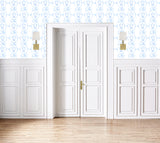 Evelyn's wallpaper line strives to emulate the same whimsical sunshine and happiness felt in her original artwork. Carefully created from the pages of Evelyn's sketchbooks, each print hopes to add timeless joy to your home.  
About the Print
The trois wallpaper print was inspired by Evelyn's childhood with two sisters. EH painted bows she remembered from her favorite childhood dress and made the focal point 3 flowers, one for all three Henson girls. EH named the print "trois," the french word for three, to highlight how the design was inspired by growing up as one of three girls. 
Product Details 
Long-lasting paper with full-color, high-definition inks
Handmade to order
All paper options are eco-friendly, with 

no solvents and only 

inks

To clean, surface wipe only, gently by hand with mild soapy damp cloth
Repeat size:  12.21 in x 13.14 in
Not returnable due to the custom nature of each print run
About the Papers
Standard: This thick, chic paper features a textured matte finish and durability that

 holds up well to scratches and abrasions. This makes it an ideal wallpaper to use in high-traffic areas. 
Self Adhesive: This textured, matte paper features 

quick-drying and water-resistant, opaque finish. To apply,

 peel the paper backing and stick onto the wall. 
Ordering
All wallpaper is classified as bespoke as it is printed to order and cut specifically for you.

 

All wallpaper sales are final, so please double check all the details of your order such as color choice, dimensions, wallpaper type, measurements, etc. prior to ordering. We strive to print all orders correctly and at a high quality, so please inspect all wallpaper prior to installing. 
Shipping
Please allow 1-3 weeks for your item to be custom printed and shipped to order
Designers