Mary Frances Flowers Giveaway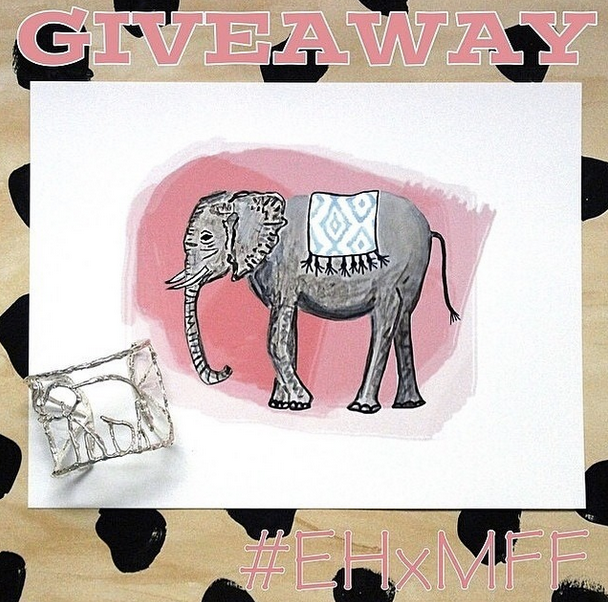 GIVEAWAY!
ATTENTION: If you like elephants, RUN over to Mary Frances Flowers immediately!
There's a giveaway happening involving an elephant print and elephant cuff. Yep, 2 elephant gems for 2x the chic. To enter, do one of the following:
1.  Share the picture (above) on instagram with the hashtag #EHxMFF & tag @evelyn_henson & @maryfrancesflowers (don't forget to let us know if your IG is private!)
2. Share the picture on facebook and tag Evelyn Henson Art and Mary Frances Flowers
3. Leave a comment on her blog with your favorite EH art + MFF jewelry combo ;) 
Hurry! This giveaway will end Friday August 15th!
ABOUT MFF
Mary Frances
is an up & coming jewelry designer who shares my love for elephants (
here
and
here
), cheetahs (
here
and
here
) and
cheeky sayings
. Basically, she's making ALL the jewelry on my wish list. Aaand lucky for me she also happens to be a friend of mine (
visit her blog
for a few high school throwback pictures) so I'm very excited to share her happy jewels and spirit with you animal-loving people. MF has always had the best style and I love how she's used her fashion sense to create chic jewelry that goes with everything in my closet. 
My FAVORITE part
is how well they're made. Casting, waxing, and metal plating are all part of the super-fabulous process. 
First enter the giveaway, then visit here to see all her jewelry.... I mean, I think we could all use a bangle (or two)! 
Good Luck!
XX
Evelyn