The Decorating Sketchbook
It's no secret I'm a fan of all things decorating (see here, here and here). Let's just say I'm always up for a little furniture rearranging, decor hunting, and gallery wall styling. Recently I've taken this passion to the sketchbook, filling the pages with interior illustrations. Coffee tables, gallery wall arrangements, book shelf displays, patterned headboards.....you name it, I've drawn it. 
Initially, I thought a few of my drawings would be part of my Fall/Winter 14 Print Series, but most of them didn't make the cut. So instead, I'd like to introduce you to the first page of "the decorating sketchbook," the latest installment of behind the palette. All credits for this new feature must go to my Aunt Patty (ALSO the one to thank for painting pottery with young Evelyn, giving me my first art easel AND always sending inspiration my way). Lucky, right?! Thanks Aunt Patty! :) These illustrations would've been put into a drawer if it weren't for her great idea. 
Scroll down to see my illustration, and then SHOP their real-life counterparts!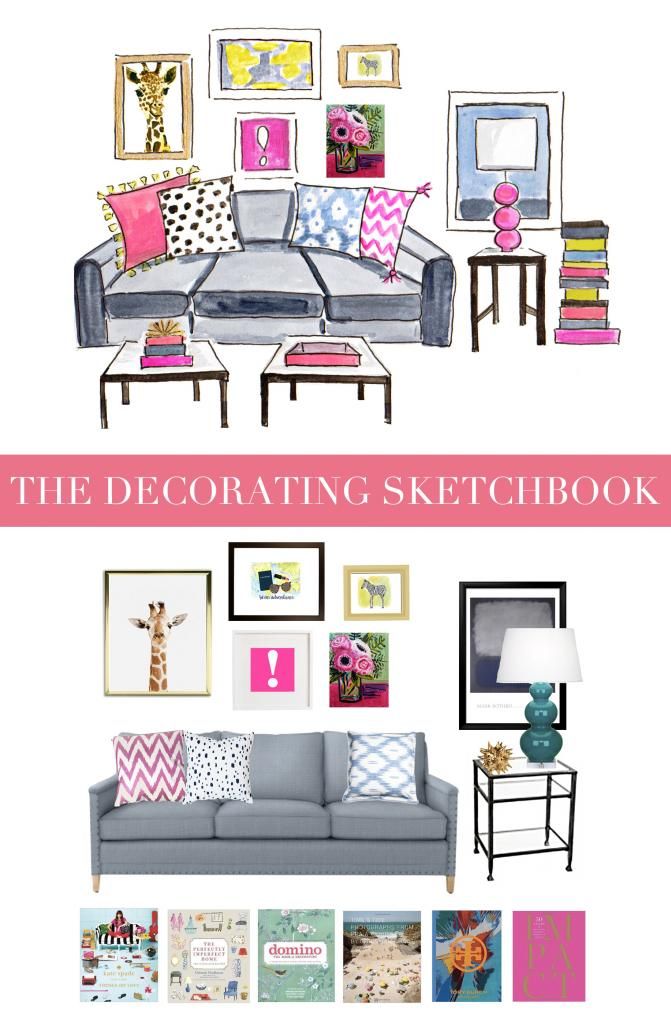 GIRAFFE PRINT | ADVENTURER PRINT | ZEBRA PRINT | FLOWER PAINTING | MARK ROTHKO ABSTRACT PRINT | TABLE LAMP | END TABLE | GOLD URCHIN | COUCH | PINK CHEVRON PILLOW | BLUE IKAT PILLOW | SPOTTED PILLOW | COFFEE TABLE BOOKS
Happy decorating! XX
Evelyn