Decorate by Numbers: Vanity Styling for Under $200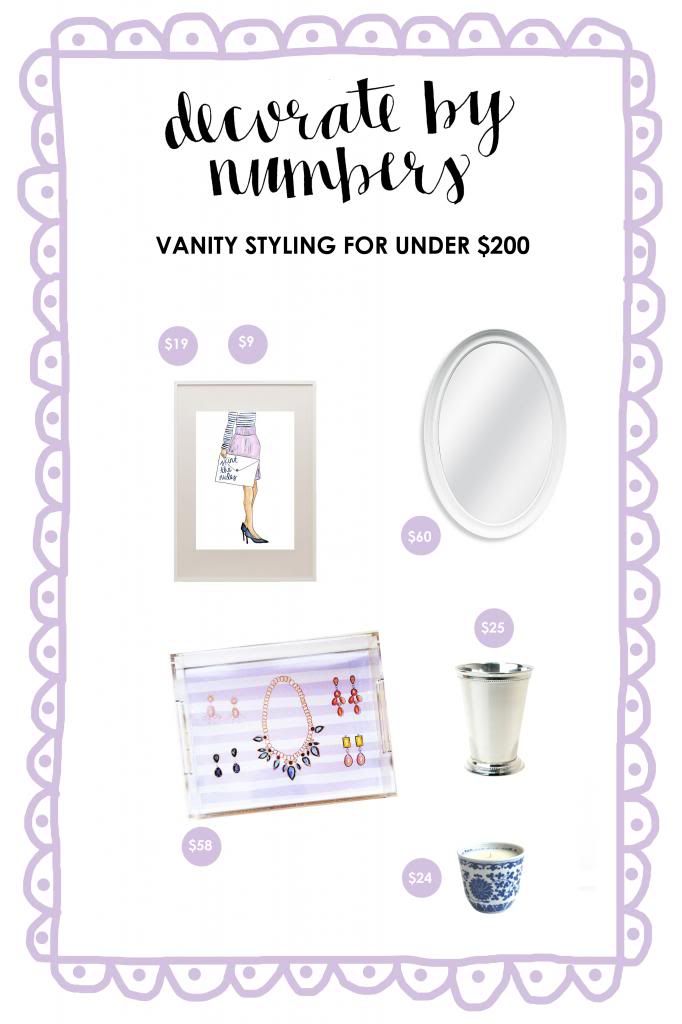 If you're looking to glam up your vanity space this month, I sourced a few of my "must-haves" to get you started! 
1. A CATCH ALL TRAY
Catch all trays like this bauble lucite are a necessity for any girl on the go. It's the only thing that'll keep all your makeup and/or baubles semi-organized when you're rushing to get ready. This tray's bauble/jewel pattern makes it a vanity staple. 
2. A MIRROR
A large mirror is really an item I'd consider splurging on, but this white oval mirror is a pretty good deal if you're on a budget. It's 21 x 30 inches, which is a pretty good size for $60 if you ask me. The chic oval frame also gives it a little bit of character. 
3. ACCESSORIES
I'd then use what's left in your budget to add color and character to your space. My go-to's are always artwork, a candle, and a vase. This "Skirt the Rules" print is a chic and sassy item from my shop, and, when paired with this Ikea Ribba frame, is only $30. My other print favorites for a vanity would be Hello Gorgeous, Imperfection is Beauty, and the Bracelet Set prints. Obsessed.
If you're a flower girl like me, this Mint Julep vase is a steal. Fill it with your favorite flowers (peonies and juliet roses for me!), or use it as storage for makeup brushes. 
Last but not least, what's a vanity without a candle?! I'm obsessing over this one's ginger-jar-like pattern----it's classic, but also stylish enough to light up a room. 
Share your favorite vanity pieces and go-to decor stores in the comments. I'm always looking for new finds! 
Happy decorating!
Evelyn