Behind the Scenes of the Spring | Summer Print Collection
I've got some pretty colorful news to share today! I've added all the new Spring | Summer prints into the shop to kick off the first day of spring! The collection is a mix of my original illustrations and handpainted letterings that I've been working on on/off for a few months now. There's more than 20 prints in total, so be sure to check them out.
Be sure to visit my Pinterest Page and REPIN your favorite! The print with the most repins (by MIDNIGHT!) will be 40% off all weeked! 
Keep reading below to get some behind the scenes secrets about a few of the prints!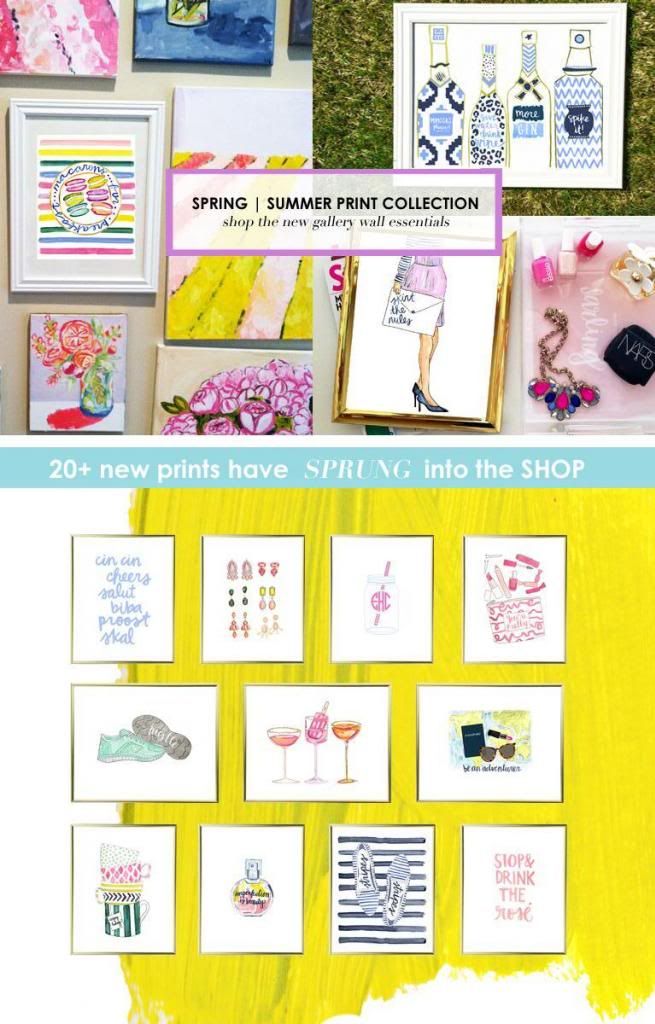 THE MAKING OF THE NEW PRINTS 
I always look to fashion and lifestyle trends when I'm gathering inspiration for illustrations. For example, the idea for Stripes on Stripes developed from the #stripesonstripes hashtag I'm always seeing on instagram and twitter. With the trends in mind, I made a list of what reminded me of spring and summer: bright colors and patterns, running shoes, statement baubles, summer soirees, fresh fruit, bathing suits, mason jars, umbrellas, skirts....
While not everything from the list ended up as an illustration, that was my starting point! I spent the past few months sketching out different concepts when I had time. My studio floor now has massive stack of sketches, many of which never made it into the print collection! I had really wanted to do a few fruit prints (I'm seeing pineapples EVERYWHERE right now), but I couldn't sketch up anything I was really loving. Perhaps in the future! 
PSSST! A FEW PRINT SECRETS 
Generally, I draw the sketch, fill it in with color, and that's the end of it, but some of the prints have a little more to it than that! I thought it would be fun to share secrets about the process of a few prints and give you a peek inside my mind! Read below for a few print secrets....
This print was initially intended to be three different prints. I had drawn each cocktail glass individually, and it wasn't until I scanned them into my computer that I decided to combine them. I think the original titles were going to be something like... "popsicle cocktails," "sparkle like champagne," and "bubbly and bright." I like them better as a trio, though!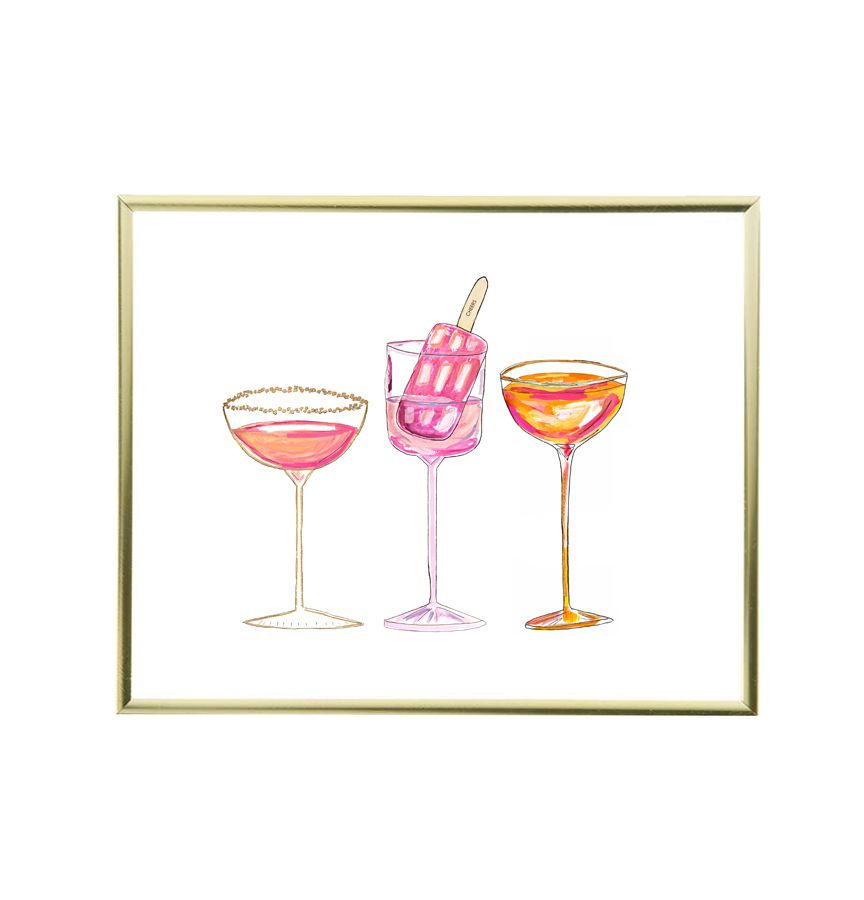 The concept for this print came to me in waves, and the print ending up combining 5 different illustrations. It started with the tortoiseshell sunglasses, which just looked too simple alone. So I added a few other summer essentialls with the lipstick illustration and a digitially illustrated passport. Once I had those three together, the "be an adventurer" text eventually popped into my head. The watercolor map background was added at least a week after that...
This patterned print combines two different illustrations! The "Enjoy Today" teacup was a totally separate illustration from the stack of three. I kept thinking each print was missing something, but loved how they looked together. 
SHOP
the entire collection here!
Happy Spring!
Evelyn